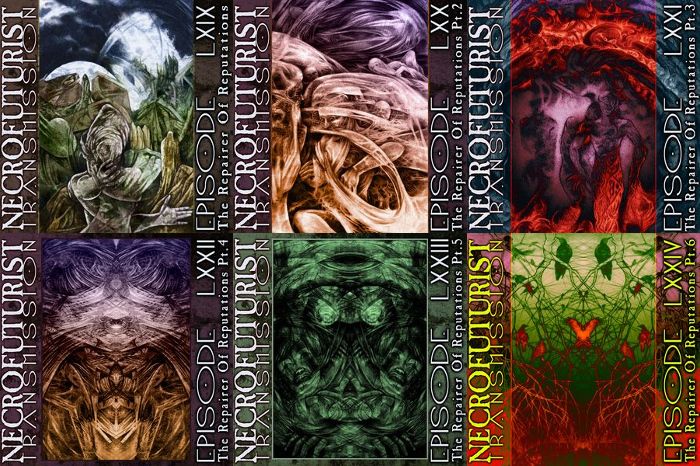 My
Creative Commons
radio adaptation of
The Repairer of Reputations
, by Robert W. Chambers, featuring narration by
Peter Yearsley
and music by numerous underground artists, was serialised in six episodes on
P. Emerson Williams
'
Necrofuturist Transmission
, on
Nightbreed Radio
, from 1st August 2015 to 5th April 2016. You can listen to the six Necrofuturist shows using the players above, and
The Repairer of Reputations
is also available as a single podcast on
archive.org
, or via the player below.
"Along the shore the cloud waves break,
The twin suns sink beneath the lake,
The shadows lengthen
In Carcosa.
Strange is the night where black stars rise,
And strange moons circle through the skies,
But stranger still is
Lost Carcosa.
Songs that the Hyades shall sing,
Where flap the tatters of the King,
Must die unheard in
Dim Carcosa.
Song of my soul, my voice is dead,
Die thou, unsung, as tears unshed
Shall dry and die in
Lost Carcosa."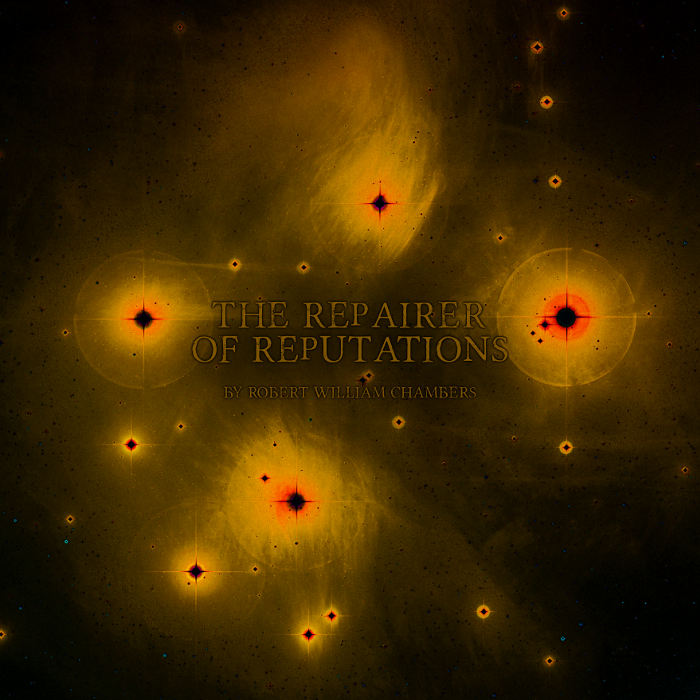 The Repairer of Reputations
, from
The King in Yellow
by Robert W. Chambers, was read by
Peter Yearsley
for the
Librivox project
. All Librivox recordings are in the public domain. The music was downloaded in September and October 2011 from
bandcamp.com
, where it was made available under the terms of Creative Commons licenses allowing derivative works. The complete track listing is:
Metsu: Gathering
Cerca Trova: Monoliths (Acceptance)
Fosel: Adenine
Dubh: Winter Maelstrom
Fabio Keiner: Sound Gardens 6
Talokin: Snowstorm
Fosel: Only The Snow Can Begin To Explain (Adrián Juárez Remix)
Kraai: Hikikomori
Asphixiator: Thornback
Apophatic: Decline
Hoarfrost: Oberaufseherin
Faarg: Sleep Folk
Hoarfrost: Light Through The Skin
Lord Cernunnos: Amanita Phalloides
Caustic Reverie: Telegonus
Fydhws: Минимализам
Imhotep Is Invisible: Irrational Anthem
DOOOM: Limbic Psyance
Wicked Sick: Badlands
Eclipsing Black: A Brief Reprieve
Thank you to everyone involved.